Garage Doors
Choose from a large selection of beautiful garage doors.
At Garage Doors By Roy North, you'll get exceptional service from our team. We'll help you select from a wide range of high-quality garage doors. No matter what your specific needs are, we've got something that looks good and within your budget.
Choose from leading brands of garage doors: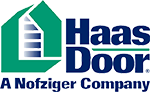 Raynor Garage Doors: Choose from a large selection of products including Raynor Windload products like Miami Dade Certified. Design a door through Raynor.
Amarr Entrematic: Known for their excellent standards since 1951, this company offers high-quality construction and unique features built into each door.
Haas Door Company: You'll get to choose from top-quality garage doors with outstanding workmanship and top-of-the-line materials such as aluminum and steel.
Janus International: Choose your steel roll-up doors and building components designed for self-storage, industrial, and commercial needs from this large selection.
AstaAmerica Corporation: You'll find top-quality rolling door products known for their durability, including commercial, industrial, and self-storage products.
You don't have to choose on your own. Let our team help you select the ideal door for your home or business. You'll get superior workmanship on door installation. We also offer garage door openers for most applications.